Perspectives Program
Help for adults with autism spectrum disorders
Psychosocial treatment, or non-drug interventions involving psychological and social therapy, may help adults with autism spectrum disorders learn to interact better with others, manage their emotions, feel more comfortable in social situations, and accomplish their life goals.
The Perspectives Program aims to study how best to help adults with autism spectrum disorders using psychosocial treatment. The Center for Excellence in Autism Research at the University of Pittsburgh has begun the Perspectives Program, a psychosocial treatment research program, to study and treat adults with autism spectrum disorders. Participants will be treated for up to 18 months with either Cognitive Enhancement Therapy or Enriched Supportive Therapy. These psychosocial research interventions provide support and are designed to improve social functioning, problem solving, stress management, and more…
In addition to receiving these research interventions, participants may also be asked to complete interviews, computer testing, and diagnostic assessments. Participants will be compensated for completing these activities, and will not be billed for treatment provided by the program.

What is Cognitive Enhancement Therapy?
This research treatment aims to help with problems in thinking, planning, and socialization. Participants begin with cognitive training using computer software programs. They also participate in a small social-cognitive group to learn about their condition and how to act wisely in social situations by developing the abilities needed to understand another person's perspective, evaluate social contexts, and be foresightful.
Time commitment: about 3½ hours per week

What is Enriched Supportive Therapy?
This research treatment uses individual supportive therapy to help adults learn about their condition, manage their emotions and stress, improve their social skills, and cope with everyday problems. Participants will learn about the impact of stress on their lives, and how to identify their own early cues of distress and apply effective coping strategies.
Time commitment: about 1 hour per week

Who is Eligible to Participate ?
Individuals with the following characteristics are eligible to participate in the Perspectives program:
• Age 16–45
• Diagnosis of Autism Spectrum Disorder
• Ability to speak and read English
• IQ>80

Is There a Charge to Participate?
There is no charge for any of the research procedures, including Cognitive Enhancement Therapy and Enriched Supportive Therapy appointments. Participants are offered compensation for completing research assessments.

How to Contact Us
The referring clinician (or interested patient and family) can contact us through the University of Pittsburgh Center for Excellence in Autism Research toll free, at 1-866-647-3436 or by e-mail at autismrecruiter@upmc.edu. Please leave a message with your name and contact information if you receive an answering machine. The Perspectives Program is located at Webster Hall, 4415 Fifth Avenue, Suite 140M (on the Mezzanine floor) in the Oakland section of Pittsburgh. Parking is provided.

Tour the Perspectives Program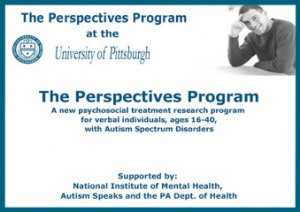 Support for the Perspectives Program is provided by the National Institute of Mental Health, Department of Defense, Autism Speaks, and the Pennsylvania Department of Health.